Event Management System No.1
download presentation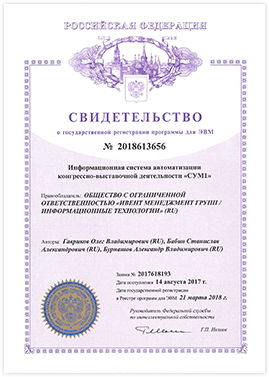 The EMS1 Platform was created in 2012 by a group of experts and developers well versed in organizing large-scale events in Russia. The primary goal of the Company, therefore, was the development of innovative domestic software that would include the best available practices and technologies. The project is financially supported by the Foundation for Assistance to Small Innovative Enterprises. The EMS1 Platform is registered in the Software Registry of the Government of the Russian Federation and assigned certificate No. 2018613656.
EMS1 was developed entirely within Russia. Currently, this is the most innovative system of automating the organization and management aspects of large-scale events, such as conferences and exhibitions. The features that set this platform apart include a number of integrated functional and logic modules that may be set up and adapted to specified automation tasks with the help of integrated configuration tools, report generators and printout forms. Overall, the Platform includes over 70 modules and plugins.
The Company's goal is to even further refine the EMS1 Platform, implementing state-of-the-art standards from across the globe, as well as the best available practices and Company experience accumulated during implementation of large-scale projects for our customers from various industries, while providing for individual customer requirements and industry specifications.
The EMS1 team comprehensively supports the organization and management of key international events as well:
St. Petersburg International Economic Forum
Eastern Economic Forum, Vladivostok
Russian Investment Forum, Sochi
Eurasian Economic Forum in Verona, Italia
19th World Festival of Youth and Students, and more